Grandstand Pocket Scramble in the movie Electric Dreams:
This is an obscure one... This scene is from the 1984 MGM movie Electric Dreams. In the background (behind the girl) you can clearly see a huge Grandstand banner. Now, if you look closely, you will see that the box on the far right side in the exact center of the image is a Grandstand Pocket Scramble. I was grabbing this image off of an 80's Name That Tune DVD game just for the banner, you can't see the Scramble game because of the over-scan most TVs have. That was a fun surprise.
Technically, this image is actually from the music video for the movie's theme song 'Together in Electric Dreams' by Philip Oakley and Giorgio Moroder, but it's still a scene from the movie (which has never been released on DVD...).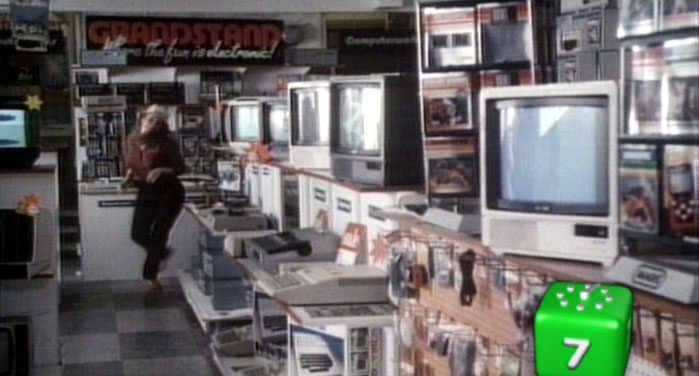 Image copyright MGM/UA Entertainment.