Me @ the Red Dragon Casino!!!!!
OK, if you haven't seen Rush Hour 2, you may not realize that this is a fictitious casino seen in the movie, supposedly in Las Vegas. I didn't think much of it when I saw the movie (but I know it wasn't a real casino), so you can imagine my surprise when I saw the huge Red Dragon sign on the Las Vegas strip! So naturally, I stopped for pictures... :) This is the old Desert Inn casino that New Line kind of dressed up to be the Red Dragon. They basically just painted one side of the sign and added the neon letters, if you walk past the sign and turn around, it's the old Desert Inn sign... :) Unfortunately the Desert Inn is scheduled for demolition, so most of the front of the bulding and the whole 'lobby' for the Red Dragon had already been destroyed. It's still weird to me to think that this sign (and a beautiful neon dragon like the one in the circle) where made for the movie and are just going to be destroyed. (The neon dragon is still on the side of the hotel itself, and I imagine will just get smashed when they pull the building down.)
Me in front of the sign: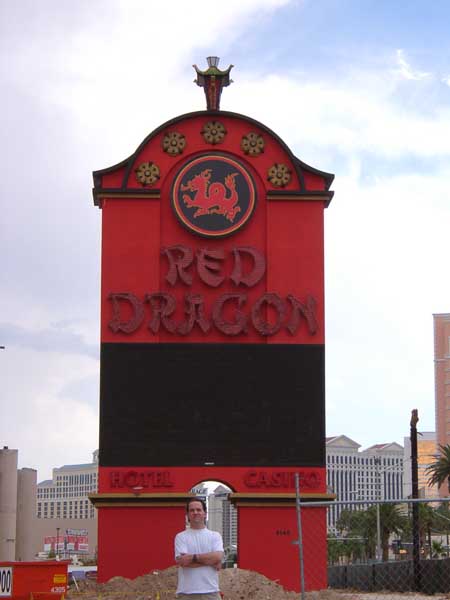 Here's a shot of the sign and the hotel. The burn marks above the first 3 windows are from the explosion set off in the room just as Jackie Chan and Chris Tucker jump out the windows and slide down the wires toward the sign (a scene from the movie...).