Here's some pics of people's personal collections (basically shelves, floors, tables, whatever COVERED in games. :) It's obvious that some people have been at this for quite a while... (and I'll be there soon I'm sure... :)
Rik's collection Updated on 12/05/00
The Omega Man
Emeraldr
This is a pic of a bunch of the games I've received in the last two years (taken on 12/30/03):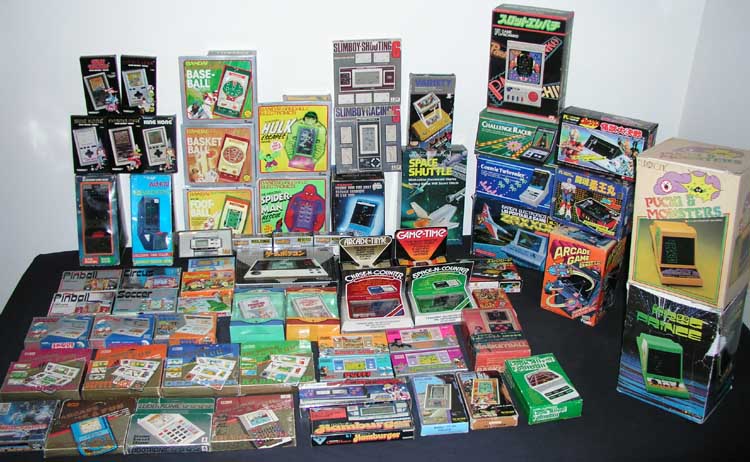 All of these are boxed, here's the list roughly from left to right, top to bottom (standing games first):
Tiger Space Invaders, Tiger Jawbreaker, Tiger King Kong, Tiger Monster Maze, Tandy King Kong,
REI (Ramtex) UFO Invaders/Block Buster, Kingsonic (Ramtex) Alien Invaders, Bandai's Baseball, Basketball,
Football, Hulk Escapes and Spider Man Rescue, Tomy Slimboy Shooting and Racing, Tandy Cosmic Fire Away 2000,
Vtech Variety, Wing Group Space Shuttle, Tsukuda FL Pachinko, Actronics Challenge Racer,
Actronics Cosmic Twinvader, Bandai FL Zaxxon, Bandai Ultraman, Bandai Toukon Jyuohmaru, Tomy Arcade Game
(Japanese Arcade Attack), Eurosonic Pucki & Monsters, Romtec Frog Prince, (Upper Left laying down):
Gakken Pinball, Curcus and Soccer, Tomy Slimboy Bowling, Bandai Super Boy, Bandai Burgertime, Tiger Mr. Bullfrog,
Epoch Game Pocket Computer and 3 cartridges, GCE Arcade-Time, Game-Time, Chase-n-Counter and Space-n-Counter,
Bandai Elecroad 4, Tomy Burning, Tiger Smurf, Schtroumpfs and Miner 2049er, Epoch The Penguin Story and
The Adventure of Jack, Vtech Diamond Hunt, Deputy Den, Deep Diver and Rabbit Hop, Tiger Lucky Luke, Pantera Rosa,
Puffi and Onc' Picsou, Mattel Basketball (Japanese), Takatoku Macross, Vtech Chicky Woggy, Ludotronic Home
Sweet Home w/ calc, Vtech Dragon Castle w/ calc, Popy Space Cobra Professional, Takara Hamburger, Bronza
Police and Rodeo, and finally Mattel Look Alive Football.
Here's the 10/8/01 shot: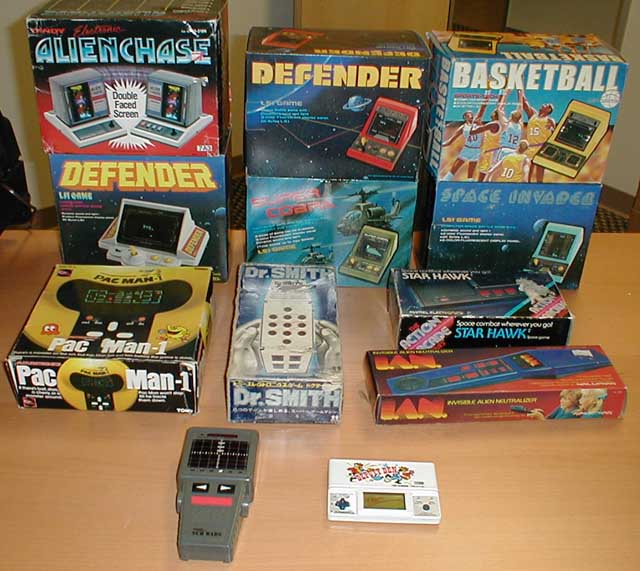 Some of my recent additions, almost all in new, unused condition! Tandy Alien Chase, Entex Defender (different, Konami version), Gakken Defender, Gakken Super Cobra, Gakken Basketball VFD, Gakken Space Invader, Futuretronics/Tomy Pac Man-I (used), Tomy Dr. Smith (used), Mattel Star Hawk, Mattel I. A. N., Tiger Sub Wars (LED), Vtech Deputy Den.
Previous pics of new games: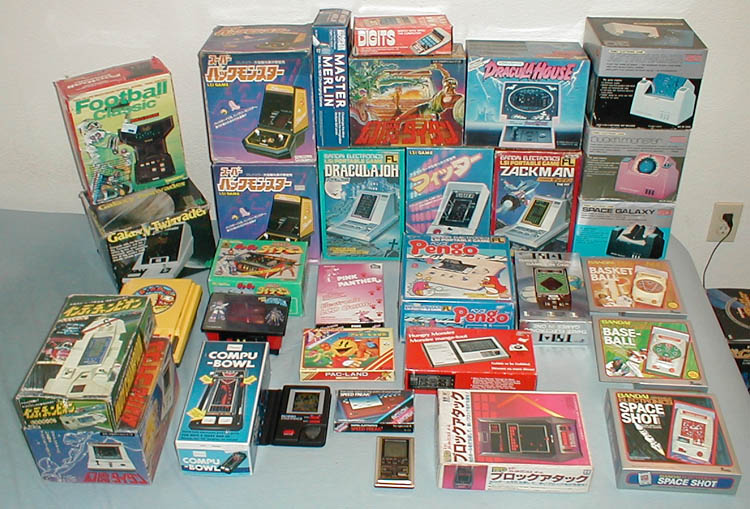 Almost all boxed and in like-new condition! Bambino Football Classic, CGL Galaxy Twinvader, Gakken Super Puck Monster (x2), MB Master Merlin, Coleco Digits, Epoch Fights of the Titan (x2), Epoch Dracula House, Bandai Draculajoh, Gakken Fitter, Bandai Zackman, Rosy Astrovader, Rosy Puck'n Monster, Rosy Space Galaxy, Gakken Dig Dug (loose), Gakken Indy Champion, Bandai Go Go Dynaman, Bandai Kampf Der Monster (loose), Sears Compu-Bowl, MGA Pink Panther, Namco Pac Land, Bandai Pachinko Star Wing II (loose), Mattel Speed Freak, Tiger Star Castle (loose, not 100%), Bandai Pengo, Tandy Hungry Monster, Tomy Block Attack, Fonas Tri-1, Bandai Basketball, Bandai Baseball, Bandai Space Shot.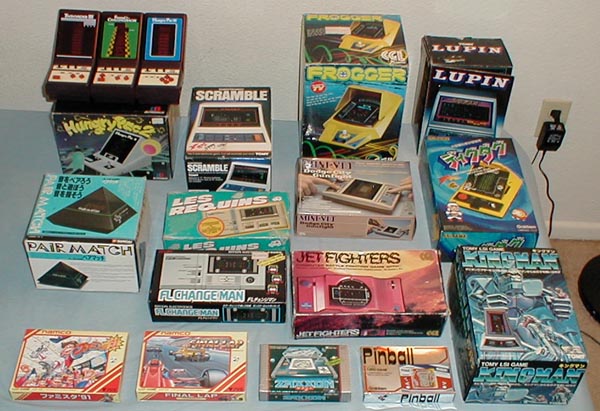 All boxed, most in like-new condition. (3 loose: Actronics Twinvader III, Challenge Racer, Hungry Pac 3). Boxed: Actronics Hungry Pac 2, Tomy Scramble (new), CGL Frogger, Tomy Lupin, Bandai Pair Match (new), Bandai Les Requins & FL Changeman (new), Mego Mini-Vid Dodge City Gunfight (new), CGL Jet Fighters (new condition game), Gakken Dig Dug (new) Namco Baseball & Final Lap (new), Bandai Zaxxon LCD (new), Gakken Pinball, Tomy Kingman (new).