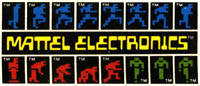 Handheld Games (59 listed) (Games are LED unless noted)
View Trivia and Stories / View Prototypes and Rarities
View Toy Fair/Trade Magazines: 1978 / 1979 / 1980 / 1980 Canada / 1980 U.K. / 1981 / 1981 France / 1982 / 1983
View Magazine ads for Computer Chess, 4 of Mattel's sports games and Las Vegas Pinball
Mattel was originally founded by Harold Matson and Elliot Handler who created the name 'Mattel' from the beginnings of their last and first names. The company started out selling picture frames out of a garage workshop in 1945. Elliot started a side business of selling doll house furniture from the scraps of wood from the picture frames, and with the success of the doll furniture, the emphasis was turned to toys. Mattel started making electronic games in 1976 with the handheld Missile Attack game (which lived only a short time), and soon followed by Football and Auto Race. All are LED based games unless noted. Mattel has been re-releasing several of their classic games, look for the white re-release labels.
Click the banner to see 4 cool skateboard decks with Mattel game themes: